イタリア人男性と結婚をした日本人女性、もうすぐ海外出産!
婚活ブログ
イタリア人男性と結婚をした日本人女性、もうすぐ海外出産!
A Japanese Woman who Got Married in Italy is Expecting a Baby Soon!
As I wrote on this newsletter last time, there is a California couple who decided to get married in 2020.
https://traditionaljapanesematchmaker.jp/blog/congratulations-tjms-first-successful-marriage-of-2020/
We also heard from another member couple in California who recently got married! He gave us a testimonial.
https://traditionaljapanesematchmaker.jp/testimonial_posttype/message-from-r-california/  
In addition, two previously married couples are expecting babies in 2020! One couple is in California and the other is in Italy.
Congratulations!
One of our male members who got married and started a happy new life with a Japanese woman in Italy came to the US last week. Matchmaker Luna and her husband Steve had dinner with him.
Here is a happy voice from him.
https://youtu.be/dwKR2WL1z6A


Thank you very much!
He came to Japan in Spring 2019 in order to meet some of our female members in Japan. He traveled to Kansai(Kyoto and Nara)and we arranged a meeting for them in Nara. We remember that she drove a few hours in order to meet him. He came to Japan from Italy to meet her. Both of them spent a huge amount of time and effort.
Therefore, their date in Nara was a kind of miracle and both of them felt chemistry and enjoyed their precious moment together in Japan.
After that, things went quickly! Their first date was in March 2019, then they married in September 2019, and now they will have a baby in June 2020!


Congratulations!
Matchmaking is my life work, and your happiness is my happiness. And I feel that miracles are happening every day. We are spreading LOVE and happiness from Japan to the rest of the world!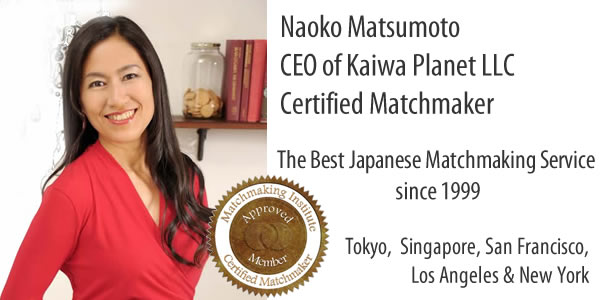 Dating and Matchmaking Service for Single Professionals and Japanese Women Established in 1999. We have been working as a professional Japanese matchmaker for 18 years. We look forward to assisting you in finding your Japanese wife. Please click below to make an appointment for a Free Skype consultation if you are truly interested. We are happy to make an appointment with you after you have created your own profile. https://meetjapanlady.com/company.html

Naoko Matsumoto
CEO and Your Personal Matchmaker
Traditional Japanese Matchmaker