Our Happy 11th Wedding Anniversary
松本直子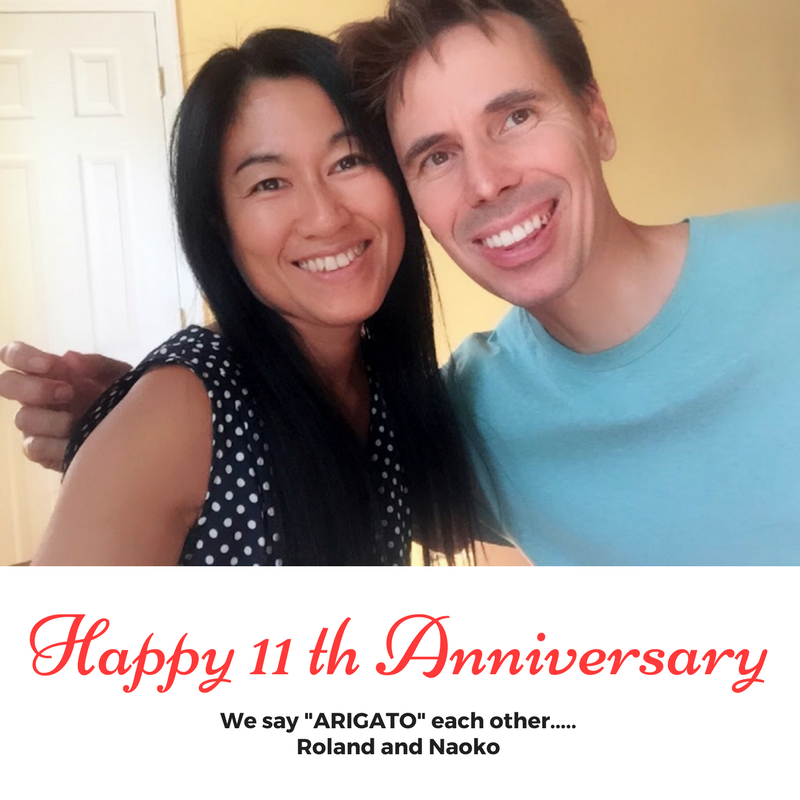 Our Happy 11th Wedding Anniversary
We had a Happy 11th Wedding Anniversary last week.
Although the divorce rate in the US is extremely high at over 50%, we have been thriving (or surviving) as a happy couple for over 10 years. That is fantastic!
I don't want to say that maintaining a happy marriage life is a miracle because every couple can make a little effort to feel "happiness" every day.
Every day we share a happy moment of that day. We ask each other "What is your happiest moment of today?" Everyone in our family enjoys answering this question and sharing our happy feelings at dinner time.
Even if you experienced something sad that day, thinking about and sharing your happy moments with your partner will help you heal with encouragement and positive energy.
We keep doing "sharing a happy moment in a day" as a daily mission so we will share happiness 365 times a year, and 3650 times of happiness in 10 years. This is very powerful!
I believe that a happy relationship is not built in a day as Rome was not built in a day. I think giving and receiving a big diamond is not true love. However, creating positive energy by "sharing a happy moment of the day" will help create a meaningful, trusting, and strong relationship of love.
My husband and I have been on the same ship for 11 years and our ship is heading in the same direction now. We enjoy life together on warm, sunny days and windy, snowy days. In the next 10 years, I hope we will be sharing happiness 3650 times, and that we will still keep traveling and discovering something fun together by boarding on our same ship. This is what I thought on the day of our 11th wedding anniversary.
We have been working as professional Japanese matchmakers for 18 years. We look forward to assisting you in finding your Japanese wife. Please click below to make an appointment for a Free Skype consultation if you are truly interested. We are happy to make an appointment with you after you have created your own profile.
https://meetjapanlady.com/company.html
Join us at our next event on Sun July 2nd 2017 in Japan.
Pre-Registration
http://beret-ex.jp/fx/18
Naoko Matsumoto
Creating Happy Couples for 18 years