We are now open for reservations for Speed Dating Event in Tokyo on July 7th 2018
イベント情報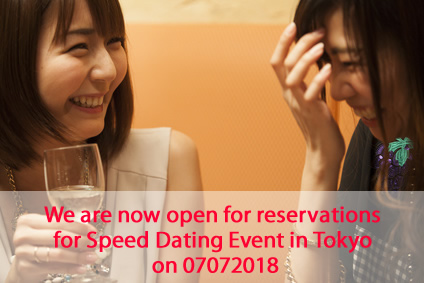 We are now open for reservations for Speed Dating Event in Tokyo on July 7th 2018
We are now open for reservations for TJM's Speed Dating Event in Tokyo on July 7th 2018. We are excited to announce this event in TOKYO 2018. Some of our male members asked about the details of this event since they want to make flight reservations to Tokyo.
Date: Sat July 7th 2018
Time: 15:00-18:00
Place: Harajuku Area, Tokyo
Here is the link for the event reservation.
https://meetjapanlady.com/form_tokyo2018/
If you reserve in April, you will receive an Early Bird discount.
If you would like to know about reasonable hotels near the event place, please let us know your accommodation budget. We are happy to make hotel suggestions for you.
More than 20 Japanese women joined our event last year. You can have meaningful conversations with all female members who join the event. It is a great opportunity for you to meet many nice, single Japanese women in one place. Also, when you visit Japan, we are happy to setup individual meetings for you with our female members if you would like to meet specific women privately.
If your objective is "marriage", we highly recommend for you to join our annual Tokyo Event. Our female members are sincerely looking forward to meeting you at our event!
Speed Dating Event in Japan on July 7th 2018
If you haven't planned to visit Japan, we recommend to plan on July 7th 2018. We will host a speed dating event in Tokyo, so you can meet many beautiful Japanese women in Tokyo in one day. Also we can arrange individual meetings for you. I am sure this is a great opportunity for you if you really want to marry a Japanese woman within a year!
Speed Dating Preregistration: Register now, and you will receive the benefit.
https://meetjapanlady.com/form_tokyo2018/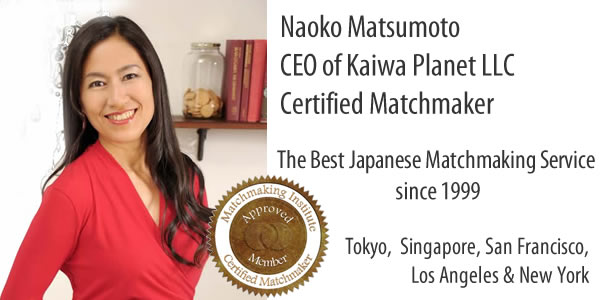 Dating and Matchmaking Service for Single Professionals and Japanese Women Established in 1999
We have been working as professional Japanese matchmakers for 18 years. We look forward to assisting you in finding your Japanese wife. Please click below to make an appointment for a Free Skype consultation if you are truly interested. We are happy to make an appointment with you after you have created your own profile. https://meetjapanlady.com/company.html

Naoko Matsumoto
CEO and Your Personal Matchmaker
Traditional Japanese Matchmaker